Meet the new Performance Dashboard, providing greater visibility over your RedShield service
Under the new 'Apps' section in the RedShield Portal, you can now see RedShield's performance across all of your shielded applications.

1. Platform performance
View secured transactions. For every request and response transaction, RedShield checks around 7,000 security policy data points including the user's actions within the application, bot detection, network and application layer DDoS techniques, and WAF signatures; all of which are tuned and managed by the RedShield team to ensure that there is no impact to your users.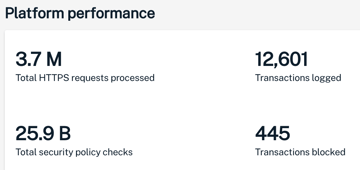 2. Service performance
View a summary of support tickets you've raised with our service team, including any false positives, as well as the average and fastest response time for your service requests, which are all managed in support.redshield.co.

3. Security audit performance
See metrics related to your managed vulnerability scanning within the last 30 days, configured and managed by RedShield. This includes the total time spent analysing scans to verify shields are effective.

4. Individual app response performance
For each application we're shielding, you can now also drill down on request throughput by application, including response types (200s, 300s, 400s, 500s) over time.
Check out the demo video
Keen to re-familiarize yourself with the Portal?
Keen to see understand your attack traffic, see what vulnerabilities are shielded or you want to streamline your updates? The Portal is the place to go and you can find a range of walk through guides for specific areas in the RedShield support area here.
But if you would like a personalized walk through session, please email support@redshield.co and we'll arrange a time with one of our experts.
And don't worry if you can't remember your login details, simply enter your email in the login area here and select forgot password. Failing that please raise a support ticket here and a member of our team will work with you to supply credentials.
RedShield Portal Frequently Asked Questions
What training support is available to get the most out of the Portal?
You can view an updated demonstration video that focuses on the new enhancements that have been added

.

You can also book a personalized Portal demo session any time by emailing support@redshield.co
We have already built our own security dashboards, is there a way they easily add this information?
Many of our customers already have integrated data from the Portal into their own SIEM and our data can be programmatically accessed.
We can't seem to find our Portal login details, how can I get access?
If you have an account but cannot remember your credentials, navigate to the Portal login page, enter your email address and click forgot password. Follow the prompts to update your password and log in. To create an account, email

support@redshield.co

and we'll set one up for you.
The Portal data provided doesn't seem accurate, how can I raise an issue?
If you notice an issue with data validity, please email

support@redshield.co

to raise a ticket and one of our engineers will investigate.
Do I need to pay for this?
No - it is already included in the RedShield service.